Barro en Sus Manos...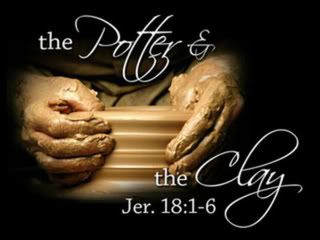 La señal del alfarero y el barro
1 Palabra de Jehová que vino a Jeremías, diciendo:
2 Levántate y vete a casa del alfarero, y allí te haré oír mis palabras.
3 Y descendí a casa del alfarero, y he aquí que él trabajaba sobre la rueda.
4 Y la vasija de barro que él hacía se echó a perder en su mano; y volvió y la hizo otra vasija, según le pareció mejor hacerla.
5 Entonces vino a mí palabra de Jehová, diciendo:
6 ¿No podré yo hacer de vosotros como este alfarero, oh casa de Israel? dice Jehová. He aquí que como el barro en la mano del alfarero, así sois vosotros en mi mano, oh casa de Israel.
-Jeremías 18:1-6
I have Pentecostal roots but, I don't believe religion -I believe in a relationship with Christ. Praise & Worship is a lifestyle for me and I wouldn't have it any other way. Criminal Justice is my major, I'll be a great detective someday. I am Pro-Life, abortion is murder no matter how people try to sugar-coat it. Music speaks when words fail. Poetry makes me feel free. Things I've learned never to take for granted: Grace, Family, Friends, Love and Laughter . . .